Division of Science hosts student showcase
Analysis of boar sperm, an observation of NHS hand-washing procedures and a project to lift human DNA from bird feathers were among a host of honours projects at this year's Abertay University Division of Science Poster Day.
Undergraduate students from the fourth year Forensic Sciences and Biomedical Science courses, who will graduate this summer, gathered in the University's Old College on Wednesday (May 9) for a day of presentations that saw them defend their dissertations to academics in the morning, then welcome family, friends and members of the public in the afternoon.
Many of them will next year progress to Abertay's two unique new Masters of Science courses, which run for the first time in the 2018/19 academic year.
Abertay will offer Scotland's only MSci Forensic and Analytical Science degree, while the new MSci Biomedical Science is Scotland's only professionally accredited course of its type.
Included in the project line-up was research on taking fingerprints from bank notes, new analysis of illicit drugs, a study looking at the human dive reflex and the potential benefits of repurposing anti-inflammatory drugs.
Students also showed work on bullet scanning, the effect of dopamine on the central nervous system and bacteria in seal faeces.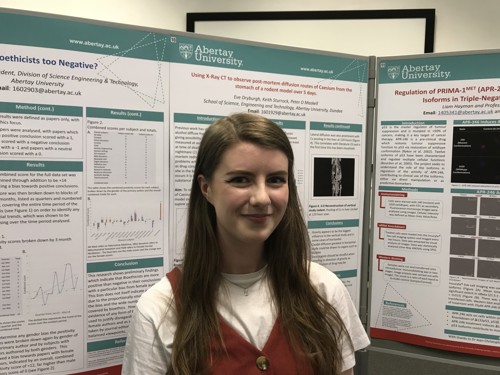 BSc Biomedical Sciences student, Eve Dryburgh (above), 23 from North Berwick, based her project around drugs deaths, looking at how drugs flow out of the body post-mortem.
She said: "I had really great supervisors who were there when I needed them, but also gave me the independence to learn on my own terms as well.
"Abertay has been a fantastic experience and I'm planning to start on the new MSci course next year."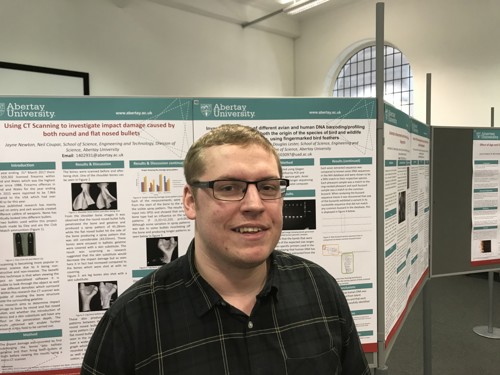 BSc Forensic Sciences student Ian Ross (above), 27, from Arbroath, worked on extracting DNA from bird feathers, with a view to applications in wildlife crime.
He said: "I looked at three types of extraction, including touch tape and swabbing, and got positive results on all of them.
"Since being at Abertay I've become really interested in DNA, to the point where I now want to go on to work in the police service."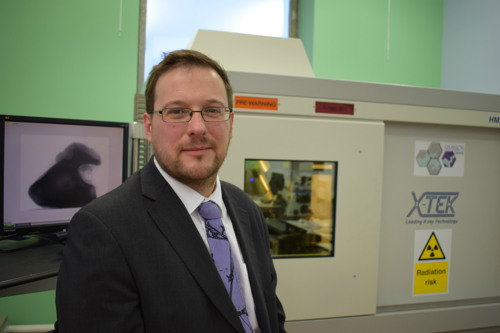 Head of the Division of Science, Dr Ben Jones (above), said the standard of work had been particularly high.
He added: "A lot of these projects link to industry and our students have been able to take advantage of our £3.5m science labs, ensuring they leave us ready for the world of work or are well placed to go on to further study."
Click here to study science at Abertay.