US exchange student has gaming in her genes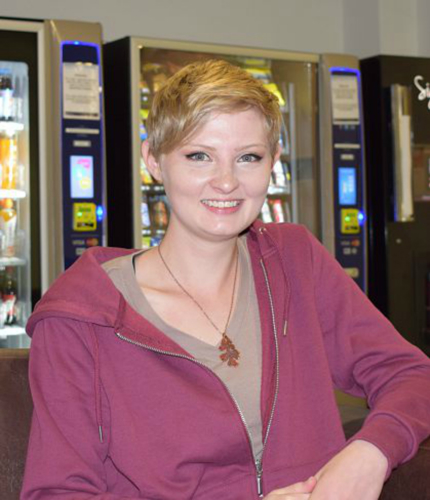 A US exchange student with gaming in her family genes has arrived at Abertay University to study art and animation.
Elizabeth Peak from Champlain College in Vermont had never been further than a trip to Canada prior to her decision to come to Scotland and hone her artistic skills at Abertay – Europe's number one university for games.
Abertay and Champlain both specialise in games production and, for Elizabeth, choosing to go into the sector was influenced by her mother's passion.
She said: "My mum and my stepdad met online on World of Warcraft! So when she got remarried gaming became a huge part of growing up.
"They were World of Warcraft raiding buddies – he was the tank, she was the healer!
"My older brother used to play games too so I played them with him. So I guess it's always kind of been there but was in the background until it came time to pick a college.
"I was originally looking for schools to go into graphic design, but there was a lot of typography and advertising - very static and kind of boring.
"Then I found Champlain and I instantly knew that this is it – this is what I want."
Elizabeth describes her course as "making art for video games" and studies 3D modelling, 2D render and painting, digital illustration, texturing and animation.
When the opportunity to spend a semester at Abertay came up the 20-year-old jumped at the chance and is even missing her brother's wedding to take up the opportunity.
Abertay and Champlain have an exchange agreement that allows students to attend either university without being charged additional fees.
"I've been to Montreal one time and that is the furthest I've ever travelled," Elizabeth said.
"Everyone in my school goes to Montreal, which is a huge gaming hub in the world, but for me that was kind of underwhelming because it was only three hours from Vermont.
"I got an email saying we had this opportunity to study in Scotland and I thought – 'that sounds great, I want to try it.'
"My ultimate goal is work for a Triple A company, because it's a stable position. But I know I can go into any industry that requires 3D modelling or anything of that sort.
"My favourite gaming company is located in Poland so it would be great to work there, but I would be willing to work anywhere.
"Both Abertay and Champlain have a lot of connections to industry so that's great."
For more information on study abroad opportunities visit https://www.abertay.ac.uk/studying/exchange-study-abroad/