Student hails 'greatest opportunity' at V&A site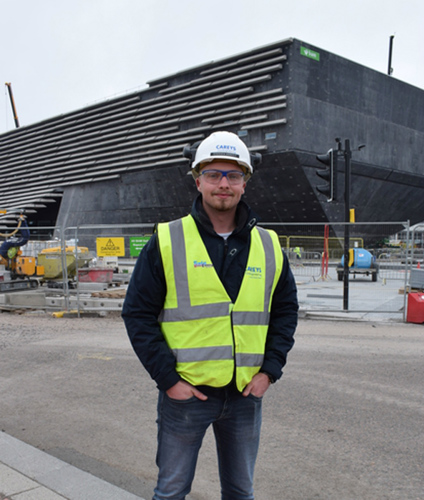 Meet the meticulous Abertay University student tasked with checking each one of 5,000 fixing points integral to the stunning design of V&A Museum of Design Dundee.
Stephen Brindle has gained invaluable experience at the landmark museum site thanks to Abertay's commitment to providing a guaranteed work placement for every Civil Engineering student – the only University in Scotland with such an offer.
Since the turn of the year, the 23-year-old has been working with specialist contractor Careys Civil Engineering, carrying out an array of jobs including extensive checks on 5,000 brackets – the mechanisms allowing the distinctive cladding to be fitted to the outside of the building.
Once finished, V&A Dundee will be covered with 2,500 of the pre-cast stone panels, which weigh up to 3000kg each and span up to 4m wide, creating the appearance of a Scottish cliff face.
It's been a dream placement for BEng (Hons) student Stephen, who has also been paid a weekly wage by Careys Civil Engineering while gaining experience on one of the world's most prestigious builds.
He said: "This placement has been one of the greatest opportunities I've had in my life to be honest, and I feel I got really lucky with coming to Abertay and getting to work here.
"To be working with Careys Civil Engineering is great because they are a brilliant company and there could be opportunities with them after my degree.
"It took a long time for us to check all 5,000 brackets but making sure everything is exactly right is an important job."
In addition to assisting site managers with extensive checks, Stephen has worked on paving, manhole covers, groundworks and benches, as well as road traffic management, fire procedures and health and safety.
He has also been using specialist monitoring equipment to measure the positioning and stability of walls.
"Down the line when it's open to the people of Dundee and tourists we want to make sure everything is 100% right, and so far it's all been spot on.
"When it's complete, and the cofferdam is removed, the Tay will come right up to the building and it is going to look pretty spectacular.
"Having this opportunity has been so important and I've learned while working on the site that employers want qualifications, but also want experience over anything else."
For most information on Civil Engineering at Abertay, including Scotland's only guaranteed work placement, visit https://www.abertay.ac.uk/studying/undergraduate/civil-and-environmental-engineering/#d.en.24790