Prizewinners honoured for stellar achievements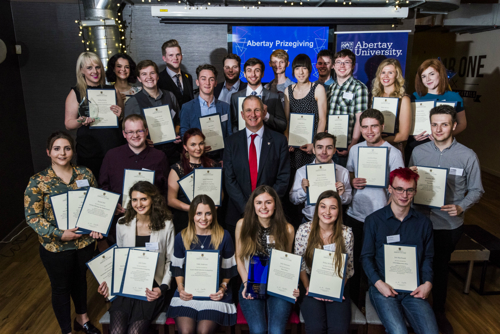 The outstanding achievements of Abertay University's best performing students were celebrated across two prize-giving ceremonies.
An array of prizes were handed to students from across the schools of Science, Engineering and Technology; Social and Health Sciences; Dundee Business School and the School of Design and Informatics (formerly Arts, Media and Computer Games).
A full gallery of the winners is available here.
Ceremonies ran on both Wednesday and Thursday evening, with Principal Nigel Seaton welcoming guests.He said: "We are very proud of our students at Abertay, and these prizewinners have demonstrated outstanding success in their fields of study.
"The University is extremely fortunate in having a substantial community of friends and supporters who have donated prizes – as individuals or families, and as companies, professional bodies and public services.
"We value our links with the wider community, which are both broad and deep. The sponsoring of prizes, which I know is greatly appreciated by our students, is one of the ways in which our friends help us to make Abertay the special place it is."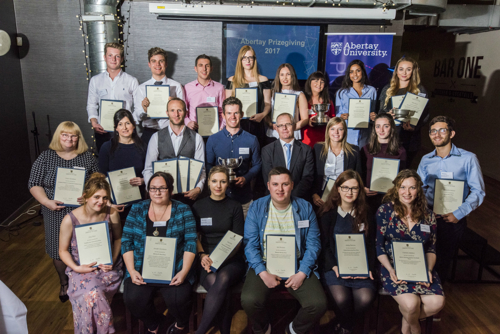 Prizes awarded included Dave's Prize - established in memory of David Carnegie who studied Computer Games at Abertay University - which was awarded to the student on the BA (Hons) Game Design and Production Management programme who produced the best proposal for an external project.
The C J Lang & Son Prize was awarded to the student in the honours year of the BA (Hons) Marketing and Business programme who was deemed to be the best student overall.
Donated by the Sword family, the Sword Prize for Sport was awarded to the student who demonstrated exceptional achievement in competitive sport.
The Alexander D G Kydd Prize was presented in memory of the former Governor of the University and the John Wilson Lawson Memorial Prize went to the fourth year student on the BSc (Hons) Web Design and Communication programme who achieved a high level of performance.
The Lothian Family Awards were made to the student, in each of the four Schools, who in the demonstrated the greatest positive impact, and the Hannah Maclure Prize was awarded from a bequest by the late Myra Falconer in memory of her mother, Hannah Maclure.
Full list of prizes and prizewinners:
School of Science, Engineering and Technology
Ashok Adya Memorial Prize - Keela Pikkarainen
Axis-Shield Diagnostics Prize - Rachel Hill
The Chartered Society of Forensic Sciences Prize -Marcella Ferrero
John Currie Award - Laura Fordyce
Ede & Ravenscroft Prize - Rebecca Coakley
Food & Drink Federation Scotland Prize - Nikki Anderson
Honorary Fellows Prize for Innovation - Rachel Divers
IBMS President's Prize - Rachel Hill
Institution of Civil Engineers Prize - Aleksandra Tomczyk
Institution of Structural Engineers Prize - Julie Gladin
Alexander D G Kydd Prize - Sarah Miles
The Lothian Family Award - Paul Sherriffs
Hannah Maclure Prize - Rachel Terrell
Mars Prize - Ross Smith
Nisbets Award for Food Studies - Robyn McLean
Rautomead Ltd Prize - Julie Gladin
Roche Diagnostics Ltd Portfolio Prize - Ashley Bewley
Scottish Geotechnical Group Prize - Julie Gladin
Society of Biology Top Student Award - Rachel Hill
Tayside Contracts Prize - Sarah Miles
Wright Health Group Prize - Keela Pikkarainen
Young Prize - Lee Meiklem
School of Design and Informatics (formerly Arts, Media and Computer Games)
Dave's Prize - Inka Nieminen
David Carnegie Prize - Robyn McMillan
Ede & Ravenscroft Prize - Robert Sherry
Honorary Fellows Prize for Innovation -Gregory Hill
Alexander D G Kydd Prize - Nikita Kotter
John Wilson Lawson Memorial Prize - Philip Laing
The Lothian Family Award - Alberto Taiuti
Hannah Maclure Prize - Jonathan Kings
The Malcolm Prize - James Wood
Mars Prize - Jonathan Ross
A D D McKay Senior Prize - Jock MacDonald
Mitchell Prize - Gary McCartan
NCR Prize - William Goard
NCR Prize (Computing) - Amy Parent
NCR Prize (Ethical Hacking Honours Project) - Jordan Constantine
NCR Financial Solutions Group Ltd Network Security Prize - Tomasz Dziwok
David Potter Memorial Prize - James McAdam
Dundee Business School
Bonar Yarns Prize - Alessandro Santoro
Butterworths Prize for Law - Erin Scott
Warwick Dobson Prize - Abbie Brown
Ede & Ravenscroft Prize - Jamie Taylor
EQ Chartered Accountants Prize - Abbie Brown
Family Law Association Prize - Amy Tares
W Green Prize in Law - Jamie Taylor
Honorary Fellows Prize for Innovation - Jennifer Hedge
ICAS Charles Scott Prize - June Brandie
Alexander D G Kydd Prize - Andrew Martin
C J Lang & Son Prize - Joy Ewert
Joseph Leveson Prize - Joshua Havens
The Lothian Family Award - Emilie Lumineau
Hannah Maclure Prize - Hannah McArthur
Management Prize - Jennifer Hedge
Oxford University Press Prize - Ashley Paterson
The OUP Law Trove Prize - Jamie Taylor
Scott Prize - Kevin Duxbury
Donald T Stewart Prize - June Brandie
Sweet & Maxwell Prize for Law - Erin Scott
Thorntons Prize for Conveyancing - Lauren Alexander-Smith
School of Social and Health Sciences
Blackwell's Book Prize - Jennifer Christieson
British Psychological Society Undergraduate Award - Joseph Hamilton
Ede & Ravenscroft Prize - Blythe Davis
Sarah Fletcher Memorial Prize for Compassionate Practice - Sumiyah Mahmood
Graduate Women Scotland East Academic Prize - Susan Donaldson
Honorary Fellows Prize for Innovation - Eilidh Hope
Alexander D G Kydd Prize - Louise Jonard
Joseph Leveson Prize - Ian Hill
The Lothian Family Award - Ursa Klobucar
Hannah Maclure Prize - Jack Brennan
George McKenzie Memorial Prize - Kimberley Chesney
Queen's Nursing Institute (Scotland) Prize - Charlotte Milliken
Sociology of the Culture and Civilisation Prize - Rebecca Sherriff
The Sword Prize for Sport - Christopher Low
Tayside NHS Board Prize -Ellie Stevenson
Technical Education Development Prize - Patrycja Kusiak