Diego the Tegu has science week licked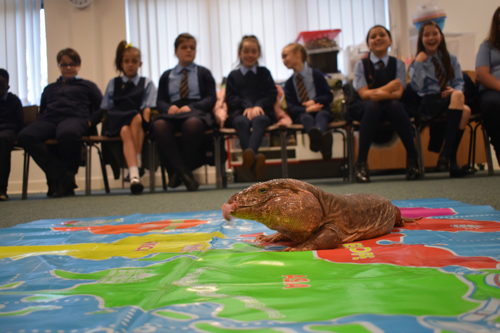 More than 3,000 primary school pupils and 250 teachers are taking part in a host of challenging activities for Dundee Primary Schools Science Week - including reptile and invertebrate handling sessions.
Running from Monday to Friday this week, the event, coordinated by Abertay University on behalf of Dundee City Council's Children's and Families Service, includes an array of sessions across 11 schools and three other venues.
All activities are designed to spark imaginations, stimulate interest and improve understanding of Science, Technology, Engineering and Mathematics (STEM).
Children will literally see sparks fly, create massive soap bubbles and learn about force, forensic science and engineering.
A selection of friendly tropical invertebrates and reptiles will meet some pupils, while other children will be introduced to robots and the stars.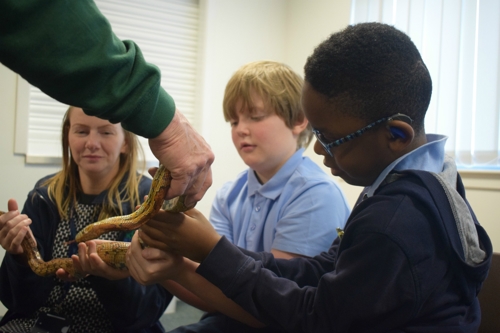 Classes will explore environmental issues linked to the Green Flag initiative and some will create their own chemical reaction in a drop-in lava lamp lab.
Using the backdrop of Dundee's £1 billion Waterfront Regeneration project, an Abertay-led Engineering and Education for All session will bring engineers from research, industry and academia together with schoolchildren and teachers.
The exhibition will include three hands-on activities demonstrating the engineering challenges of redeveloping the railway station and plaza.
In addition to Abertay, workshop providers include Aberdeen Science Centre, Animates, Be Experimental, Dundee Botanic Gardens, Dundee Heritage Trust (Discovery Point and Verdant Works), Dundee Science Centre, Theodor Litt-Schule (German Engineering College), Thinkscience and Zoolab.
Event coordinator Jennifer Smith, of Abertay's Graduate School, said: "Dundee Primary Schools Science Week is fantastic fun for all the kids, but is also a great way of teaching them about the importance of STEM subjects."