CMI accreditation for Dundee Business School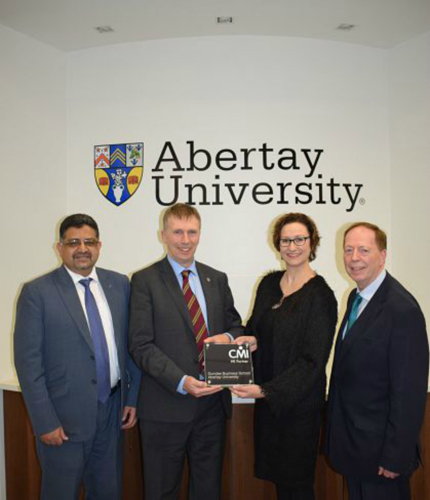 Dundee Business School students from Abertay University will now receive additional professional accreditation from the prestigious Chartered Management Institute (CMI) on completion of their degrees.
The CMI Level 5 Diploma in Management & Leadership will be conferred on Abertay students upon successful completion of one of BA (Hons) Business Management, BA (Hons) Business Management (Accelerated route) or BA (Hons) Business and Human Resource Management.
Helen Watt of the CMI was at the University on December 5 to formally approve the diploma for the three courses and unveil a plaque confirming CMI Higher Education Partner status for the Abertay University and Dundee Business School.
The additional professional qualification enhances the employability of students and comes with development and mentoring sessions from CMI professionals and employer mentors, as well as access to a range of online resources.
Head of Abertay's Division of Business & Management, Professor Khalid Hafeez said that the additional qualification is important for Abertay, which takes pride in its history of offering real-world problem-based learning for students while putting emphasis on developing their professional attributes.
Head of Dundee Business School, Professor Gavin Reid added: "We are delighted that the knowledge and professional skills of our students are being acknowledged through this professional qualification.
"This will undoubtedly give them an edge when entering the competitive jobs market."
For more information on studying Business Management or Human Resources Management at Abertay visit https://www.abertay.ac.uk/discover/academic-schools/dundee-business-school/business-and-management-courses/
Picture left to right: Prof Hafeez, Vice-Princpal Mark Batho, Helen Watt of CMI and Prof Reid.