Bug biscuits on the menu for sustainability project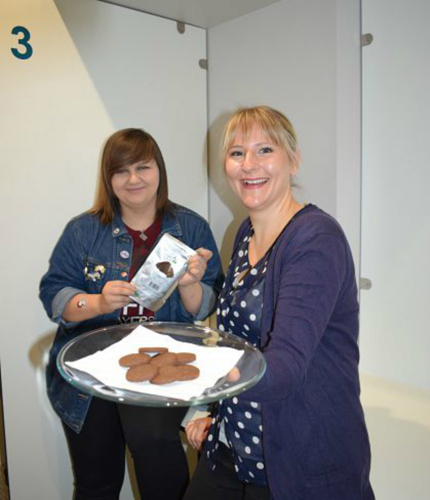 Bug biscuits were on the menu at Abertay University as students invited Dundee foodies to a creepy crawly consumer challenge.
A trio of Abertay Masters students have perfected what they believe is the perfect tea break snack - using the bodies of ground-up crickets.
Members of the public were asked to taste the crunchy insect-based treats, which had been baked with cocoa powder and a hint of orange.
The project aims to find out what it would take for Dundonians to accept insects as a legitimate source of nutrition.
Student Anja Sieghartsleitner, who is leading the study with classmates Sara Duthie and Emma Morrison, said western attitudes towards food must change if the world is meet the food demands of a growing population.
Anja added: "Insects are a lot more sustainable than other sources of meat like, beef, chicken and pork.
"They use a lot less land and water and you can eat the whole insect, not just part of the animal.
"You may not want to eat a whole cricket, but if it's hidden away in flour, or in a biscuit, you may be more likely to accept it.
"The flour is already for sale and there are a handful of companies that have started out in this market.
"The UK, the Netherlands and Belgium are more advanced in this area than the rest of Europe and it will take some time for this to grow.
"If we are seeking to feed nine billion people by 2050 then we have to change our eating behaviour, as the amount of meat we eat is not sustainable.
"You have to make products look and taste really appealing to consumers to hold their interest.
"Food choice is about pleasure because you don't just eat to make hunger go away. We need to convince people insects can be an enjoyable source of food."
The testing was carried out in Abertay's new state-of-the-art £3.5m science labs which boast Scotland's only industry standard Consumer Testing Lab, featuring climate-controlled booths.
Project supervisor Dr Alberto Fiore of the Division of Food and Drink said: "We need to be able to feed our planet and meat is becoming an unsustainable source of food.
"We think using insect protein could be the answer to this challenge, but the problem is that we need to fight against the reluctance of the western population to buy into this type of product."
The project is in collaboration with the University of Naples "Federico II" Agricolture Department which was started some years ago by Prof Rossella Di Monaco.
For more information of Food and Drink courses at Abertay visit https://www.abertay.ac.uk/discover/academic-schools/science-engineering-and-technology/divisionoffoodanddrink/