Abertay University launches memories preservation project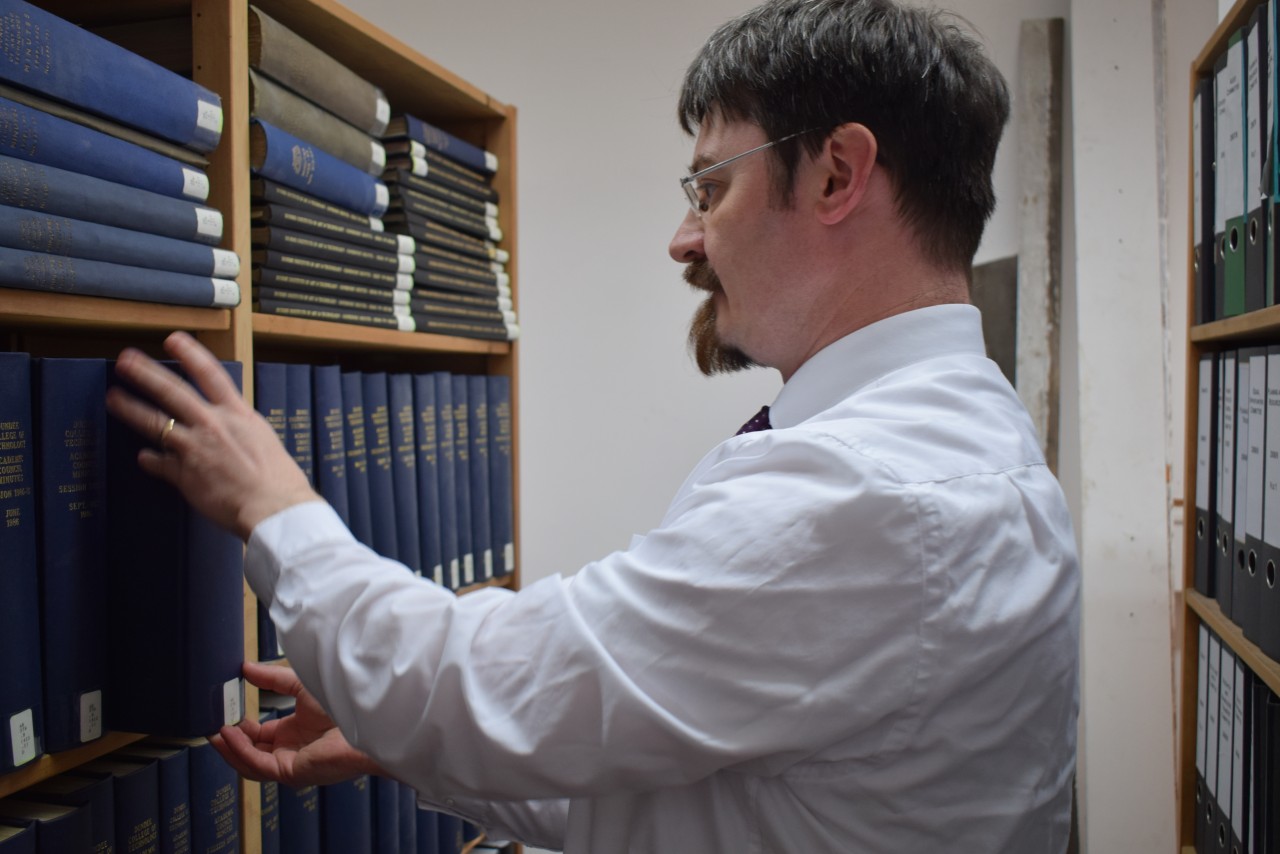 ABOVE: Abertay Archivist Ruaraidh Wishart
Abertay University Archives is making a call for people's memories of the university and its predecessor institutions as part of its new project "Memories Re-Animated".
It is collecting memories of the history of the institution through a newly designed portal that will allow members of the public to submit video or audio recordings of their stories about the university, and anything else they might have relating to it such as images of photographs.
Their memories will become part of a project to expand historical knowledge about the university through the voices of the people that were part of it, and provide the community that it has served with an opportunity to add to its archive collections.
Archivist, Ruaraidh Wishart, said, "The university has been educating the people of Dundee and the surrounding areas of Fife and Tayside, as well as students from other parts of the UK and the world, since 1888. We want to celebrate that fact by collecting the memories of the people that have made the university: its staff and students, and the people of the community it serves.
"This is a great opportunity for the public, and former staff and students to help build the archive collections, and make sure the voices and views of the people that made the university are preserved for the future."
Hope Busák, Public Engagement Officer, said "We're so excited to hear the stories of things that happened to people here; their experiences – what they saw and did; their memories of people and events here, the buildings, rooms and even the equipment, like textiles machinery or early computers!
"There is also a wider use planned for the audio and video recordings that people submit to the archives. They will be considered for a project that we will be running later with secondary school children in Dundee to create short animations based on the memory recordings.
"These will be publicly displayed early next winter at an event celebrating all the work done by the schools and community of Dundee over the past 2 years as part of Abertay 25. Allowing the voices and memories of former staff and students to be heard as part of that event will be an amazing way to end Abertay 25."
If you'd like to take part, all you have to do is make a short video or audio recording of 5 minutes or less with your memory, and then go to the Archives Submission portal to provide some information about yourself and then upload your file.
Further information about subjects of interest and a link to the Submission portal is available at: https://abertay.ac.uk/about/the-university/archive/memories-re-animated/