Hundreds of pupils attend Brexit debate rematch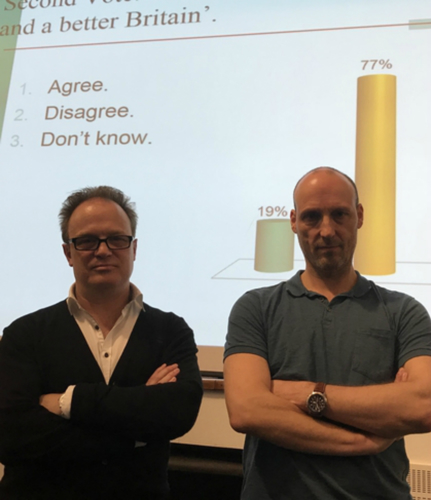 A fiery Brexit debate rematch between two Abertay University lecturers was held in front of an audience of around 300 school pupils.
Dr Stuart Waiton argued the case that 'Brexit means a better democracy and a better Britain' while opponent Dr Wallace McNeish presented against the motion.
Both lecturers are part of the Abertay sociology department in Dundee and put forward their real life opinions.
The audience for the annual event was made up of higher Modern Studies pupils from secondary schools across the city.
Each speaker had 15 minutes to outline their argument followed by a five-minute rebuttal.
Questions were then taken from the floor before electronic voting was used to determine the winner.
Head of the Sociology Division, Dr Jason Annetts chaired the debate.
He said: "This annual debate is a great way to engage young people in political discussion about the key issues affecting society today.
'Maintaining political citizenship should be part of any healthy democracy and that's why we have to ensure future generations stay involved and interested."
The debate began at 1.30pm in the main lecture theatre of Abertay's Kydd Building.
Dr Waiton is a sociology and criminology lecturer and founder of Generation Youth Issues. He writes for a variety of newspapers and is regular media commentator. Author of Scared of the Kids, and The Politics of Antisocial Behaviour: Amoral Panics, his latest book is entitled Snobs' Law: Criminalising Football Fans in an Age of Intolerance.
Dr McNeish holds a PhD in Sociology and a Masters in Political Theory and Philosophy. He taught a variety of sociology and politics courses at the University of Glasgow, University of Stirling and Glasgow Caledonian University before taking up his current role at Abertay. He researches and publishes in the fields of political sociology, social movements and social theory.
The views expressed during the debate were based on personal opinion and did not reflect the views of Abertay University.