Digital poncho game shakes up the Fringe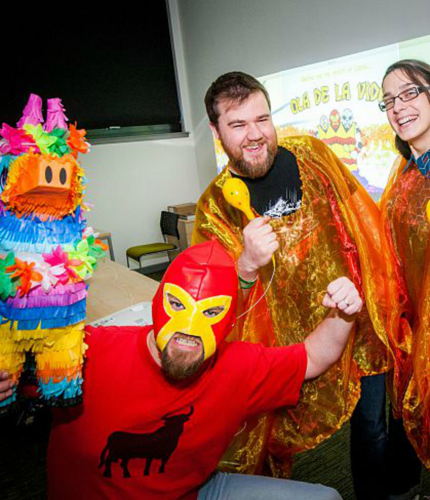 An innovative computer game where three players don a poncho, use an interactive set of maracas and collaborate to become the "wave of life" will be featured at the Edinburgh Festival Fringe this year as part of the FuturePlay Festival.
Mexican-themed Ola De La Vida was created at Abertay University in Dundee during Scotland's largest Global Game Jam event in January.
The game prototype was put together in just 48 hours by a team including Abertay computer arts lecturer Lynn Parker, PhD student Mona Bozdog and Abertay graduates Danny Parker and Alex Pass, who now work for Dundee games studios Ninja Kiwi and Outplay respectively.
Players are challenged to become a three-headed mystical being and use the wave of life to help fallen luchador piñata on a journey to the next realm.
Each player's head represents the stages of life - El Niño, El Primo and El Muerte – with all standing on a Wii balance board, holding hands with one another and using as set of maracas.
Players must sway side to side with their bodies in order to tilt their part of the wave of life while watching the game on a screen or projector.
If the players let go of one another's hands, or maracas, then the wave is broken and the game lost.
Lynn said: "Making this game was incredible fun but also showcases exactly what we are about here at Abertay, collaboration, creativity and thinking outside the box.
"The game aims to bring people together to play in the same space, whether they know one another or not. It has the potential to form new (albeit temporary) social relationships.
"The themes of the game links to our digital culture research here at Abertay whilst its creation and novel use of technology aligns to our teaching.
"When students come to us they find artists mixing with programmers and sound designers with animators to create a unique melting pot of ideas that you simply don't find at any other university – and that has been the key to our success.
"We are all looking forward to showcasing Ola De La Vida at the Fringe and seeing how visitors to Scotland react to trying it out."
Abertay is number one in Europe for undergraduate computer games courses and in the world top 10 for postgraduate courses.
Last month the university was awarded the Outstanding Contribution to Education prize at the prestigious Develop Awards in Brighton, which reward and recognise the achievements of game developers, focusing on creativity, teamwork and inspiring innovation.
The Future Play Festival runs until August 26, celebrating, exploring and showcasing cutting-edge creative content and ideas at the intersection of art and technology.
For more information on games courses visit https://www.abertay.ac.uk/discover/academic-schools/arts-media-computer-games/
Picture courtesy of DC Thomson