Business students design call lab of future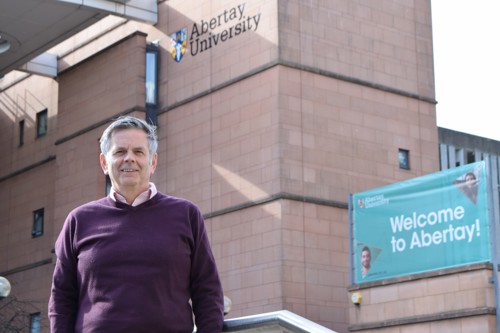 Abertay students used computer games technology to help design BT's first Customer Experience Lab in Dundee.
Designed to reinvent the traditional contact centre, the unique Lab will trial innovative customer service solutions and feature concepts developed in collaboration with students at Abertay's Dundee Business School.
Those which prove successful will be extended to other BT centres and operations in the UK.
A team of 31 multi-skilled advisors has been drawn from BT's existing city operations to staff the new Lab and provide expertise on a range of business enquiries - from new orders to billing and technical support. Business customers who call in will only need to speak to a single advisor, regardless of the reason for their call.
In the month since the Lab opened its doors, the newly-trained team has handled more than 3,000 calls from small and medium-sized business customers across the UK.
The Lab was designed by Glasgow workplace architects Alpha Scotland to create a unique collaborative and creative space.
The Abertay students came up with several ideas to transform the traditional contact centre environment after being given a brief to rip up the rule book and redefine the role of the advisor.
They applied fresh thinking to workplace layout and feel, use of technology to create new ways of working and how to improve productivity and engagement.
Among the student concepts to be incorporated into the final Lab design were a 'product bench' with working versions of BT's products, which advisors can use during conversations with customers; wireless headsets to let people to move around while they are on the phone; and the use of 'gamification' to provide engaging training opportunities.
For example, during training sessions one team could create a fault on a piece of kit typically used by a customer – such as a computer – and the opposing team would score points for fixing these faults against the clock.
Charlie Malone of Abertay University's Dundee Business School, who leads the Innovation for Global Growth partnership with BT, said: "Abertay has a fantastic working relationship with BT and the success of this project demonstrates what can happen when companies place faith in the creativity and fresh ideas of our students.
"With a major focus on collaboration with industry and across academic disciplines, Abertay does things differently, and the use of gamification in this workplace of the future is a prime example of how that approach can produce incredible results."
BT's Trafford Wilson, managing director for customer service, business and public sector, said: "Through innovation and trialling new processes, we're addressing things that our customers tell us we can improve. We know our customers don't like having their call transferred from one department to another, so we've created a team of experts that can handle most enquiries on the one call."
Dundee-based Alison MacKenzie, general manager for BT customer service, said: "We felt we had a great talent pool in Dundee to draw on for the launch, not only among our own employees to staff the Lab, but with Abertay's students providing some exciting new ideas which now move from concept to reality."