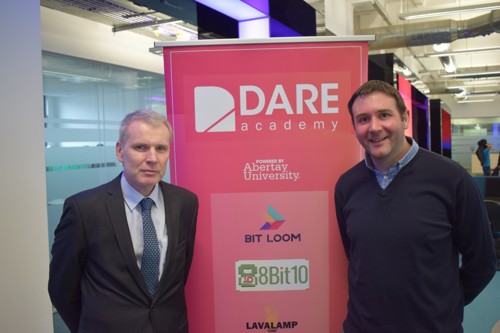 Caption L-R: Steve Cartwright of Henderson Loggie and Dr Dayna Galloway of Abertay University


Henderson Loggie to sponsor Dare Academy
Leading accountancy firm Henderson Loggie has agreed to be a key sponsor in Abertay University's Dare Academy games design competition. 


The Dare Academy, which officially launched on March 7, sees Abertay students come together in teams to create their very own computer games, with the six best showcasing their prototypes in front of over 70,000 people at September's EGX, the UK's largest games expo.


The agreement with Henderson Loggie includes a cash injection to support the competition's running costs, bespoke workshops to help students set up their own games companies, and a series of video blogs. 


Steve Cartwright, Partner at Henderson Loggie, said: "Having followed the competition in its various formats over the years, we know that the quality of the student work and projects delivered are of the highest standard.
"We are thrilled to be part of this year's competition and offer our support to the Dare Academy. We cannot wait to follow its progress over the coming months."


Last year's rebooted competition garnered critical and commercial acclaim, and the prize for winning the competition this year will be an all-expenses-paid trip for team members at the Game Developers Conference (GDC) in San Francisco in 2019.


Dr Dayna Galloway, Head of Games and Arts at Abertay said: "We are delighted to have Henderson Loggie on board for this year's Dare Academy. They have vast experience in helping games companies and the support and advice that they are able to provide to our students will be invaluable."