An international business school with close links with industry and external recognition
We in the Dundee Business School (DBS) are seasoned providers of a broad spectrum of programmes to a national and international student intake, at both the undergraduate and postgraduate levels. We offer our students an exciting range of up to date programmes of study. These develop your capabilities, both inside and outside our computer labs, seminar rooms and lecture halls, to experience, to understand and to rise to the challenges of business in the global economy of the 21st Century.
The over-arching methodology we adopt across all disciplines in the DBS entails a mix of the qualitative (e.g. case studies) and the quantitative (e.g. spreadsheet analysis). Our strategic focus in DBS is on producing change-makers, who embrace internationalisation.
Our Dundee Business School faculty members come from a wide variety of academic, professional and industrial backgrounds, ranging from law, through business management and informatics, to accounting, finance and economics. Their expertise ensures that what you learn and study is contemporary, well grounded in evidence and current research, and forward-looking in its areas of application and of policy impact.
With staff and students from many different lands and cultures, the Dundee Business School offers you a diverse and rewarding international experience, which prepares you well for the wide variety of career paths you are likely to follow after graduation. We are committed to ensuring that our business school graduates have the knowledge, analytical ability, competence and skill necessary for success – individually and in businesses settings – in the challenging world of tomorrow.
Our well-established links with industry, commerce and finance range from young industries like new media, to mature industries like energy and oil. These links play a significant role in ensuring that what you study at Dundee Business School is informed by contemporary circumstances and emerging trends. As well as being experts, each in their field, our academics are actively engaged in the world of business. Their areas of specialisation include executive training and continuing professional development.
The Dundee Business School's portfolio of programmes is known for being innovative, student-focused and contemporary, in the sense of engaging with what is happening today in the world of business and in the economy at large.
Whether you are interested in, for example, setting up your own business, planning a career in any area of business or the public sector, or seeking to qualify in the legal, accounting, or financial professions, our programmes will prove to be a fruitful starting point.
We invite you to join us for this vital stage in your career and personal development.
Prof Mohamed Branine
Head, Dundee Business School 

The School has three Divisions: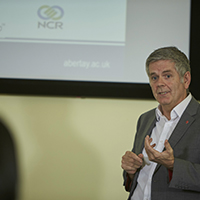 Division of Business and Management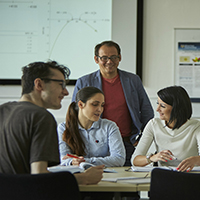 Division of Accounting, Finance and Economics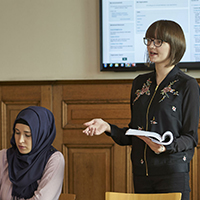 Division of Law