Sean signs pro boxing deal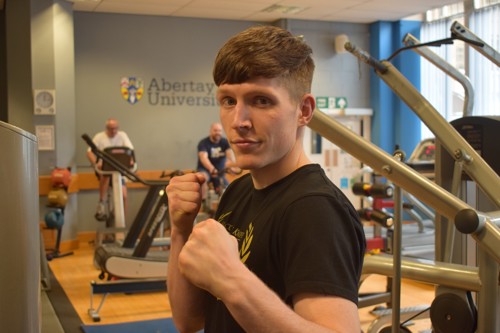 An Abertay University student has signed a professional boxing contract with a company boasting some of the world's best talent.
Sean McKiddie, from Dundee, has joined the celebrity stable of MTK Promotions, home to boxers like Tyson Fury, Billie Joe Saunders and Carl Frampton, and is set to make his professional debut this coming June.
Having trained in kickboxing since the age of ten and competed in full-contact kickboxing for the past seven years, Sean has already won numerous titles with various associations (ISKA, WKA, EFK, WIMAAO, Golden Belt) and is one of the best established amateur fighters in Europe.
After working his way up through the amateur ranks, winning Scottish, Celtic, British, Five Nations, European, Commonwealth and World titles, the 24-year-old represented Team Scotland twice at the ISKA (International Sport Kickboxing Association) World Championships, winning gold in both Spain and Portugal in successive years.
Following his kickboxing success, Sean opted to make his semi-professional traditional boxing debut on February 17 this year, securing a second round knockout and catching the eye of MTK scouts.
Despite the considerable time commitments to his sport, he is excelling in his BSc (Hons) Strength & Conditioning degree at Abertay and is aiming to become a coach for combat athletes.
He said: "This is a great opportunity for me to make a career as a professional boxer, and see how far I can go in the sport.
"I am currently studying at Abertay with the aim of becoming a top strength and conditioning coach/trainer for combat athletes, a career that will go hand-in-hand with being a professional boxer."
Abertay Programme Leader, Dr John Malone said Sean had shown incredible dedication to both his sport and his studies.
He added: "Our BSc (Hons) Strength & Conditioning degree provides the ideal route into a career in sport, be that in boxing or any other discipline.
"Sean has worked incredibly hard to balance his boxing with University life and I'm delighted he has been picked up for a professional contract."