Ninja Kiwi Europe launches new games scholarships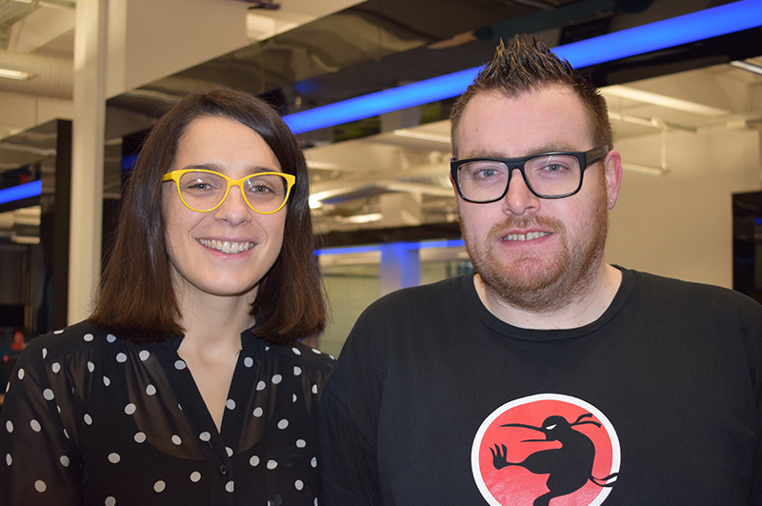 Abertay University has signed a new agreement with top games developer Ninja Kiwi Europe to provide a new scholarship opportunity for students.
For the first time, a one-year scholarship will be open to fourth year students studying games, beginning in the academic year 2018/19.
As well as a £1,500 payment to aid their studies, the successful applicant will receive an invaluable month-long summer placement at Ninja Kiwi Europe's Dundee studio, gaining work experience, industry insight and the chance to build key contacts.
The new partnership builds on a strong relationship with Ninja Kiwi Europe, whose Executive Vice Presidents David Hamilton and Barry Petrie are two of Abertay's most successful graduates.
David said: "We are delighted to be able to sponsor this scholarship and help support future talent coming through to the UK games industry.
"It is vitally important that graduates coming from university are able to hit the ground running and we are looking forward to welcoming the successful student when they join us here at Ninja Kiwi Europe."
Courses eligible for the scholarship include Computer Arts, Computer Games Application Development, Computer Games Technology and Game Design and Production Management.
Abertay lecturer Lynn Parker, a member of the scholarship panel, urged students to put themselves forward.
She said: "Ninja Kiwi Europe has been one of Abertay's biggest supporters for some time now and we're so pleased to be able to work even more closely with them in delivering this opportunity, our first games scholarship.
"While the funding will be a massive boost, the real prize here is the depth of industry expertise and expanded links to the industry that our student will gain from being immersed in the working practices of such a successful company. 
"This will no doubt provide them with the best possible start for a successful career upon graduation and we look forward to working with Ninja Kiwi Europe in the years to come."
For more information of the Ninja Kiwi Europe scholarship visit https://www.abertay.ac.uk/study-apply/money-fees-and-funding/scholarships/ninja-kiwi