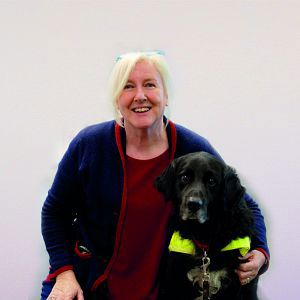 Mhairi is a Lecturer in the Division of Mental Health Nursing & Counselling
Tell us about your career…
I left Dundee in 1979 to study Fine Art at Edinburgh University. I specialised in drawing and painting but, by the time I reached my degree show, I realised I was good, but not brilliant. I graduated from Jordanhill with merit in 1984 and took up a teaching post in Jordanhill College School. In 1989, I moved back to Dundee and took up a post in Dundee High School and worked there for around 14 years. However, my world was turned upside down in 2000, when I was diagnosed with a degenerative, incurable sight condition. In 2002, I was registered blind and I took early retirement from the career I loved. I thought my life was over at that point.
I spent a couple of years in a very dark place emotionally. I had lost my career, my lifestyle, my car and my self-confidence… and I had three young daughters under five. The situation felt hopeless. When I got my first guide dog, my confidence began to return and I took a night class in counselling skills at Abertay University. I loved it and went on to complete an MSc with distinction. My first research project won the British Association for Counselling and Psychotherapy New Researcher Prize. I wanted to find out how sight loss impacted on people emotionally and what they experienced by way of emotional support.
I became a lecturer in counselling at Abertay in 2010 and I absolutely love my job! I am designing a model of counselling for blind people so that I can influence quality standards across the UK. I completed my PhD and graduated last year, with my guide dog at my side - a very emotional occasion for me.
Aspirations growing up…
I came from a long line of teachers and had always wanted to become a primary teacher.
Inspired by…
Miss Blacklock, my P5/6 teacher at Downfield Primary. She modelled calm professionalism in the midst of the chaos of 44 children. While in Glasgow, I sang backing vocals in a rock band with Lorraine McIntosh. She's my second inspirational woman as she modelled creativity, spontaneity, talent and fun. My third was Julia McLeod, lecturer at my night class in counselling skills at Abertay. She showed how to be strong without forcefulness and was an incredibly caring and supportive lecturer.
Advice for young women…
I would particularly love to be a role model for my three daughters, to prove that anything is achievable and that every obstacle is surmountable, even when the outlook is as bleak as can be. If I could write a letter to my young self, I would tell her not to worry so much, because everything will eventually turn out alright.